Welcome to the Quest for the Ultimate Burger and hopefully this will be on enjoyable trip as our small group raises our cholesterol to taste burgers and report back on our findings.
The July 30, 2009 entry is Keller's Drive In just east of Abrams Road on Northwest Highway. Keller's is a typical drive in where you stay in your car and turn on your blinkers when you are ready to place your order from the menu painted on the side of the building. Nothing fancy here just burgers, BLT's, ham and cheese sandwiches, onion rings, tater tots, fries and soft drinks, tea and ice cold beer. Unfortunately today was a work day so no cold beer but I ordered the Double Bacon Cheeseburger plain with mayo, onion rings and an ice tea. About ten minutes later a tray was brought to the car, sat on the rolled down window and revealed this: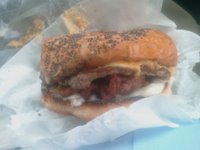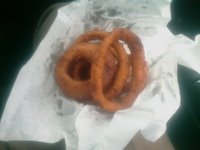 Keller's uses a thin hamburger patty so the double double is the way to go in my opinion. The two beef patties have a slice of American cheese on top of each and the thick bacon was placed on top of the mayo on top of the bottom bun. The bun is a tasty poppy seed bun which holds the sandwich together nicely. Of course I am partial to a poppy seed bun. The meat is not overly seasoned but has a nice beef taste and somewhat greasey. To go along with the double-double with bacon was Keller's take on onion rings which are thin rings of onion that are battered and fried to a crispy perfection. Biting into the ring you get the crunch of the coating and the sweetness of the onions. Overall, the burger is what a fast food burger should taste like - beef, bacon and cheese served with very good onion rings.
Ratings (Scale 1-25):
Bun - 21, toasted poppy seeded goodness
Meat - 19, the patties were a little thin but were tasty and fresh, bacon was substantial and crispy
Appearance - 19 - the patties fit nicely inside the bun with bacon on bottom and cheese placed on top of each patty
Taste - 20 - Well done fast food style burger that is a Dallas tradition
Overall - 79
Extra Pic of Tater Tots: